What is Total Productive Maintenance?
What is TPM? Total Productive Maintenance is a lean manufacturing approach that drives continuous improvement and is based on the idea that not just the maintenance team rather everybody in the manufacturing facility should take part in maintenance activities. Total productive maintenance (TPM) maximise equipment effectiveness through actively involving all supporting departments and continuously monitoring their operations. The ultimate goal of TPM is to optimise equipment availability and improve overall productivity.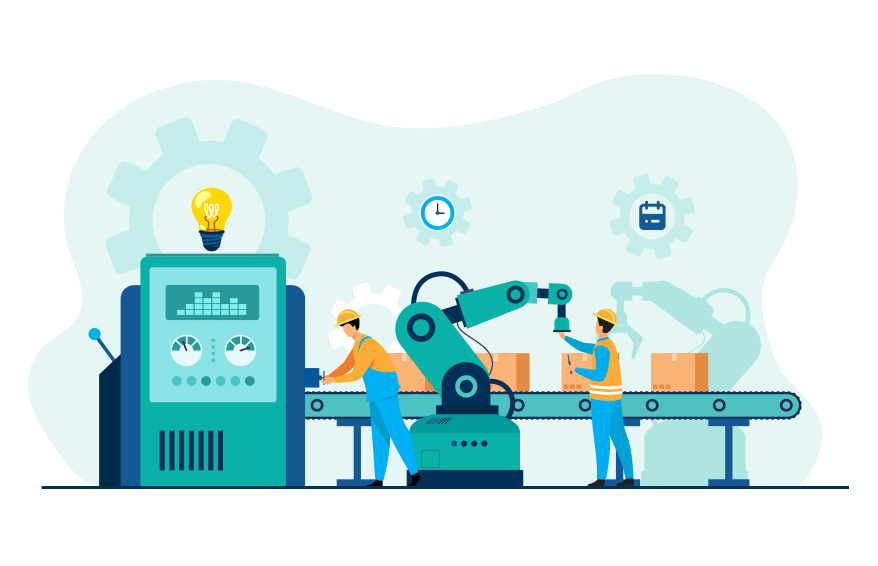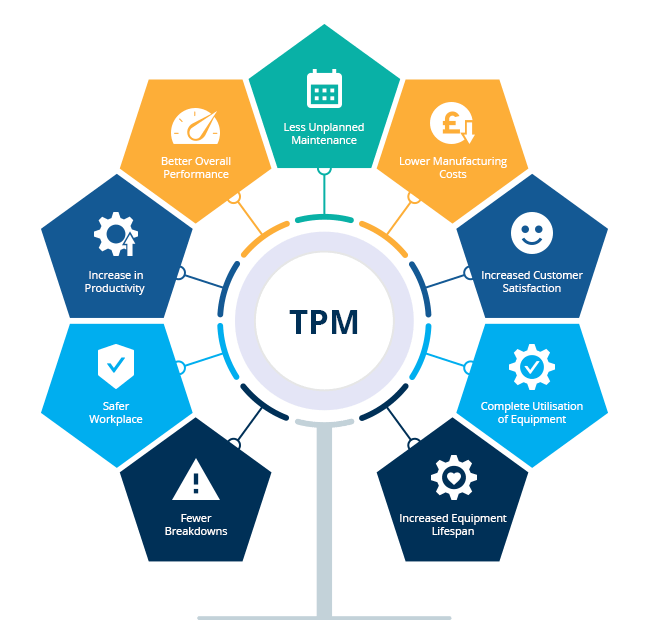 What are the advantages of TPM?
TPM standardise and organise overall procedures and benefits both workplace and production quality. There are numerous benefits that the organisation experience once they deploy the TPM strategy, including and are not limited to;
Fewer Breakdowns
Safer Workplace
Increase in Productivity
Better Overall Performance
Less Unplanned Maintenance
Lower Manufacturing Costs
Increased Customer Satisfaction
Complete Utilisation of Equipment
Increased Equipment Lifespan
5S - The Foundation of TPM
TPM is built upon the 5S foundation, a lean tool that transforms the workplace into a more stable and organised system. An organised workplace paves the way for an efficient, productive and safer environment. The five 'S' stands for;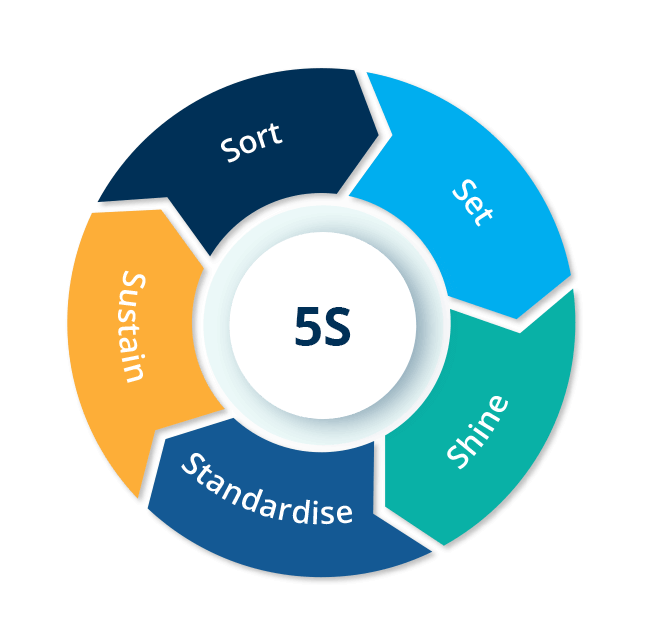 SORT
Red tag and eliminate what is not necessary at work. It identifies the redundancies and enables the team to initiate action plans for their disposal.
SET
Everything will be allotted specific storage space for easy access, creating an organised workplace where they find what they need.
SHINE
The workplace must always be kept clean as it will ease the maintenance operations that ought to occur.
STANDARDISE
Standardise the overall process at the workplace to maintain order and cleanliness.
SUSTAIN
Ensure that each step is performed regularly and with utmost care to create an environment of continuous improvement.

TITAN CMMS - The Key to Optimise Maintenance Operations Smart Solution
Worried about managing maintenance operations? TITAN CMMS is here to help! TITAN help organisations track and manage all maintenance-related tasks, boosts asset efficiency and performance, by creating a maintenance request, breakdown request, just do it (JDI), and tasks, at any time from anywhere.
Start Free Trial
Watch Video
Tell a Friend
CMMS & The 8 Pillars of TPM
The pillars of Total Productive Maintenance is built upon the foundation that the 5S lean tool creates in a work environment. Let us see how CMMS plays a role in TPM deployment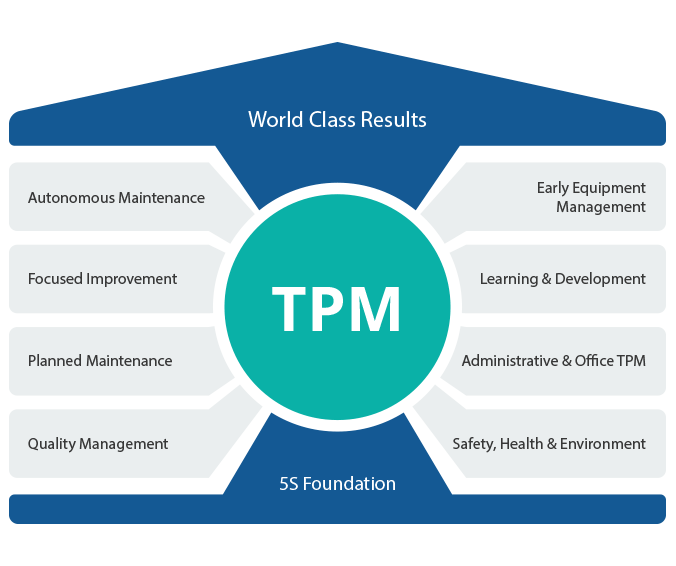 Autonomous Maintenance
In Autonomous Maintenance, the machine operators take responsibility for maintenance tasks that effectively use their skills. When maintenance-related actions like safety checks, lubrication and cleaning are done by machine operators, maintenance technicians will concentrate on more complicated maintenance tasks.
How does CMMS help? - CMMS classifies maintenance tasks the skills required to do the task and lists those who are eligible to execute the task and assign them.
Focused Improvement
Focused Improvement identifies and eliminates losses commonly encountered in manufacturing processes; as a result, the organisation can increase OEE and improve the efficiency and quality of its operations along with guaranteed minimal losses within the production process.
How does CMMS help? - The historical data of assets provided by CMMS software will help the maintenance department realise inefficiencies and enable them to implement improvement strategies.
Planned Maintenance
Planned or preventive maintenance is considered the best way to avoid breakdowns and machine downtime. It aims at improving the effectiveness of equipment by scheduling maintenance tasks to keep every asset up and running to its total efficiency.
How does CMMS help? - Using CMMS software, organisations can plan, schedule and track preventive maintenance activities and ensure they are executed on time. This helps in reducing unplanned and costly downtime.
Quality Management
Quality management in TPM is all about zero defective products and increased customer satisfaction. Addressing equipment quality issues and implementing countermeasures will eliminate the recurrence of defects. This will result in producing high-quality products every single time.
How does CMMS help? - A well maintained PM schedule means high-quality products, and CMMS easily track the maintenance schedule and deploy PM strategies on time.
Early/Equipment Management
The objective of Early equipment maintenance (EEM) is to reduce the Life Cycle Cost of equipment. Designing a new machine by incorporating the inputs of those who use it will increase reliability, operability, maintainability, and safety and reduce breakdowns and maintenance efforts.
How does CMMS help? - Historical data stored in CMMS software will help technicians review the overall performance of equipment by analysing the frequency of breakdown/repairs and further initiate plans to remove any kind of anomalies.
Learning & Development
Learning and development are essential in TPM as they will help technicians build basic maintenance knowledge and keep a regular check on equipment. It ensures that technicians are well aware of the new machinery and its maintenance operations.
How does CMMS help? - CMMS keeps track of the learning and development process, sends notifications to technicians on new maintenance operations, and ensures that they are updated with the latest information to address any scenario.
Administrative & Office TPM
TPM also addresses and eliminates areas of waste in administrative functions. Everyone must be focused on making improvements and reducing waste in their operations, improving overall process efficiency from top to bottom.
How does CMMS help? - CMMS acts as a unified platform for both the maintenance and administration departments. It is necessary to have a smooth workflow as both are an integral part of maintenance operations.
Safety, Health & Environment
Good maintenance management ensures that the environment is safe and secure and eliminates all unsafe conditions by identifying the root cause of accidents and taking necessary steps to prevent its re-occurrence.
How does CMMS help? - CMMS stores information on safety, health and environment and ensures that all processes are aligned with the health and safety regulations.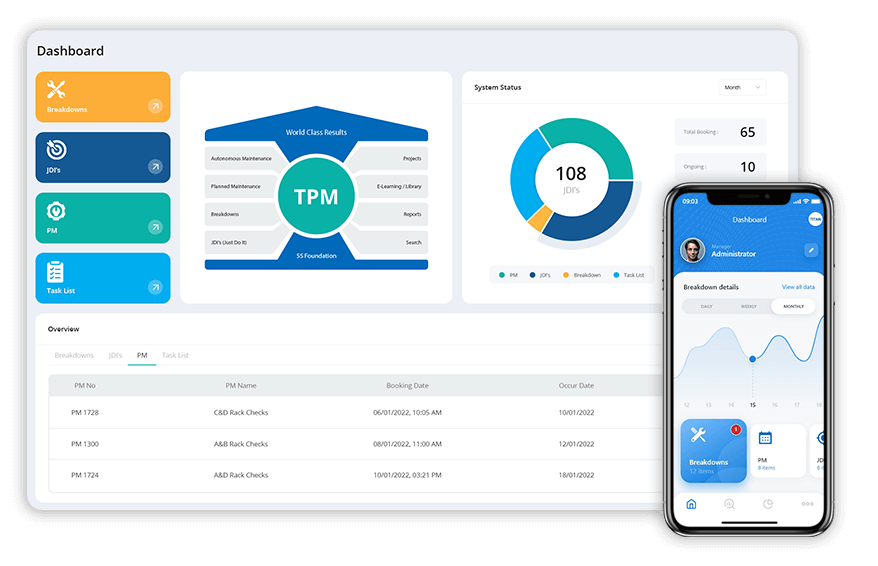 CMMS & TPM Mobile App
The combination of CMMS and TPM mobile app provides; faster execution systems, reduced error rates, improved efficiency, an enhanced lifetime of machinery, failure prediction, zero downtime and increased quality output. Gain full control of maintenance activities, work orders and other operations from wherever you are through your smartphones and analyse trends and reports to make data-driven decisions.
Frequently Asked Questions
TPM is made more accessible when an asset's comprehensive historical data is present in a CMMS. The organisation can examine the breakdown causes and repairs. By using a redesigned asset or altering the maintenance plan, persistent issues will be brought to light and can be fixed permanently.
Total productive maintenance, or TPM, enhances maintenance operations through predictive and preventative maintenance. TQM, or Total Quality Management, is a management perspective based on quality control.
Total Productive Maintenance (TPM) is a comprehensive equipment maintenance approach aiming for perfect production with zero breakdowns and no defects.
The purpose of the Total Productive Maintenance checklist is to get rid of production equipment's slow runs, defects and breakdowns. Use the checklist to determine whether a corporation is adhering to the TPM programme.
The Six Big Losses in TPM is a very effective way to categorise equipment-based losses:
Unplanned Stops
Planned Stops
Small Stops
Slow Cycles
Production Defects
Startup Defects
Total productive maintenance (TPM) maximises equipment effectiveness by actively involving all supporting departments and continuously monitoring their operations. The main aim of TPM is to optimise equipment availability and improve overall productivity.